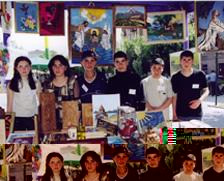 Junior Achievement of Armenia's (JAA) economics program teaches students to understand and appreciate free enterprise and entrepreneurism. We recognize that as high school students begin to position themselves for their future, there are many unanswered questions about what lies ahead. JAA's economics course helps students make informed, intelligent decisions about their future, and fosters skills that will be highly useful in the business world and global economy.

We accomplish our goals through curriculum-aligned textbooks, community outreach, and extracurricular programs. Our students use Junior Achievement's internationally-recognized Applied Economics textbook that has been translated into Armenian and edited to complement JAA's curriculum and represent the local experience. From the community at-large, we bring volunteer business people, including local Rotarians, into the classroom to share their real-life experiences with students. Each year, we also offer our acclaimed summer camp to JAA's highest achievers and the summer study abroad program to Armenia's top high school students.

Since 1999, JAA has enrolled its students in a special program organized by Junior Achievement Worldwide, called the Hewlett-Packard Global Business Challenge or HPGBC. HPGBC is a high school, Internet-based program that teaches the principles of international business competition and the practical and decision-making skills necessary to function in a democratic society. Students participate as teams and compete with their peers around the world using a special Junior Achievement software program.

Today, JAA operates over 760 economics classes throughout Armenia, where we reach more than 23,000 students annually. Combined with our civics program, JAA impacts 170,000 young people each year in every region of the Republic. We are proud to have played a significant role in promoting a pro-business climate and affecting an attitude shift among the students participating in our program. The majority of our graduates pursue economics and business programs in their university studies and state that our program has positively influenced their academic and professional aspirations.