Whenever the funds allow it, JAA participates in the international trade fair sponsored by JA Europe. JAA students from all over the world showcase their products as their entrepreneurial skills are tested against other student companies.
European Trade Fair in Bucharest, Romania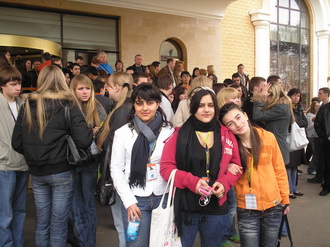 Junior Achievement students of Ejmiadzin # 4 school Anush Meykhanajyan and Anna Hovhannisyan, represented Armenia in the annual JA-YE European Student Trade Fair in Bucharest, Romania from March 29 to April 1, 2007. The students of Ejmiadzin school had created a uniq product – a belt made of wooden beads that could also be used as a massage belt. The product won in the national competition and was chosen to represent the country internationally. JAA Executive Director Armine Hovannisian accompanied them. More than 47 companies from 17 European countries showcased their goods and services and presented the jury their business strategy and plan.
European Trade Fair in Linz, Austria
JAA took part in the international trade fair in 2009 in Linz, Austria from April 4 to April 6. More than 35 European countries participate in this annual extravaganza. At first, the competitions were held on a local level in Armenia. In 2009, on a national level 19 schools sent in their bids for the international competitions. Among the 19 products, one was chosen to represent Armenia. School #56 students were the winners. Their product was a hand woven cellular phone case as well as a hair brush container which can be hanged on the wall. Student company president Lendroush Safarian and Vice President Narek Amirkhanian, represented their company. Anahit Manoukyan, Yerevan program coordinator accompanied them.

Lendrush Safaryan, President of "1000+1" company shared his thoughts "It was the first time that we were offering our product on the international market. We learned so much about the taste and the demands of the European costumer. It was an experience that not only thought me a lot but will remain and guide my life for many years to come ".
Narek Aghamiryan, Vice president of the company explained "We not only learned about business, but we learned in real life about business ethics and dilemmas that can face you. Through our classes, we had learned and discussed many issues on business ethics through our program called Global Business Ethics Program, but it is one thing to discuss it in class another to see and experience it in real life".
During this trip the students also visited business companies such as the Rosenbauer Company, which is the world's largest producer of fire fighting vehicles and the largest provider of special vehicles for airport and industry.