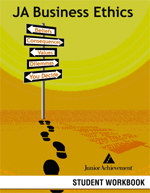 The Global Business Ethics Program takes students from around the world through a 12-week case study-based program as they explore personal values, character development, and business ethics.
The program links students via the Internet, giving them the opportunity to debate and discuss ethical dilemmas. Students interact with other students in the region as well as from around the world, widening their perspectives on ethical issues and developing a cross-cultural understanding.
The program is taught in the traditional Junior Achievement format using teachers and local business volunteers as classroom mentors to guide the learning process with a hands-on personal approach. Combining the traditional classroom setting with the benefits of technology, students are assigned weekly Global Partners to communicate with and discuss topics related to the week's lesson.
Program topics include:
Unit 1: What is Ethics?

Unit 2: Universal Values – The Basics

Unit 3: Personal Values – The Basics

Unit 4: Your Core Values – What Matters Most

Unit 5: Core Values in Action – Moral Decision Making and The Grey Area

Unit 6: Conflicts Between Values – Why Is It So Hard to Do the Right Thing?

Unit 7: Impediments to Doing the Right Thing – Four Kinds of Motivation

Unit 8: Personal Values and Business Ethics – How Business and Society Work Together

Unit 9: Business Ethics and Society – Tolerance, Ethics, and Values

Unit 10: Business, Society, and the World – Twenty Great Quotes on the Importance of Character

Unit 11: Why Ethics Matter in Your Future – Growing an Ethical You

Unit 12: Ethics, Who You Are, and Who You Are Becoming
Skills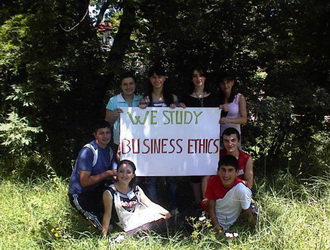 Global Communication

Conflict Resolution

Decision Making

Critical Thinking

Teamwork

Analyzing Ethical Dilemmas

Between the years 2006-2010, JAA enrolled 890 schools and 18 235 students in the on-line and traditional class Global Business Ethics Program.

For more information please visit http://www.ja.org/programs/programs_high_business_ethics_obj.shtml