The British Council and Junior Achievement Worldwide came together with a program challenging students to come up with innovative ideas for a business partner. The Skills for Employability Enterprise Challenge is an enterprise competition for young people aged 15-18 in vocational schools in nine countries in South East Europe (Armenia, Azerbaijan, Bulgaria, Georgia, Israel, Macedonia, Romania, Serbia and Turkey) and the UK.
The Skills for Employability Enterprise Challenge is a series of national competitions, leading to an international competition, aiming to encourage young people to use their skills in enterprising and innovative ways, ultimately enhancing their employability and entrepreneurial flair.
More than 1,500 students took part in the 2008/2009 national competitions in various countries, where the business community gave the students a challenge which they had to solve within just a few hours and make a presentation in front of the jury.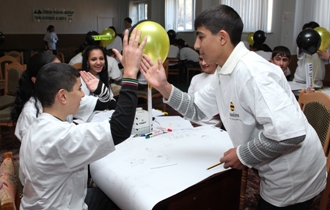 The first national competition was held in Yerevan State College of Informatics on 11 November 2008. During the day, Armentel's Beeline company, the business partner, gave the students a 'challenge. The jury members included Ambassador of Great Britain, Representative of International Monetary Fund and President of Beeline Company, and representative from the Ministry of Education. The challenge was to come up with a program for a family who uses the services of the cellular phone company. The family consisted of working parents, retired grandmother and two students. The winners of the national competitions participated in the international finals in Sofia on 11-13 March 2009.

At the second national competition vocational school students were asked to present essays on the topic "What I would do if I was General Director of ArmenTel CJSC". Three hundred fifty students submitted their essays. Subsequently, fifty students were selected to participate at a weekend camp where their new assignment was to develop an interesting web page. The winners from this competition were then tested for their mastery of the English language so that they could easily converse at the international. competition. The winning students were to represent Armenia in Belgrade, Serbia from April 4 to April 6 Everything needed for the trip was prepared , visas, paperwork and tickets purchased. A day before departure , the Airlines could not guarantee that flight from Yerevan to Vienna could be made on time or if there would be a flight out Vienna to Serbia, given to volcano in Iceland. It was decided that JAA could not risk going to Vienna and the trip was not taken by the Armenian children..

In September 2010 launched the third Skills for Employability Enterprise Challenge competition. All the vocational colleges across Armenia were invited to participate. The 2010/2011 Skills for Employability Enterprise Challenge Competition started with a business essay competition announced among all the Vocational Education and Training colleges of Armenia. Students were invited to submit essays on the topic "How does the Internet help you to achievе success in your life?" The students of the 50 best essays were invited to take part in the Skills for Employability Enterprise Challenge National Camp.


For more information please visit http://www.britishcouncil.org/armenia-science-society-skills-for-employability-enterprise-challenge.htm