JAA Executive Director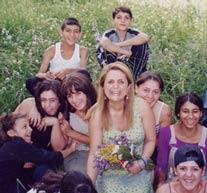 Armine K. Hovannisian has been the executive director of Junior Achievement of Armenia since 1993. She has taken JAA from its modest beginnings with only eight schools and grown the program to reach 1,400 high schools throughout the Republic of Armenia.

Mrs. Hovannisian has spearheaded new and innovative programs, bringing lasting reforms to Armenia's educational system. Within the governmental sphere, Mrs. Hovannisian is recognized as an authority on educational reform and is often invited by officials to speak on this topic.

During her tenure at JAA, she has developed the national curriculum for civic education, authored the official civics textbook for the 9th grade, and implemented Junior Achievement's Applied Economics program.

Mrs. Hovannisian was born in Armenia, and moved with her family to the United States as a young child. She holds a B.A. in Diplomacy and World Affairs from Occidental College, and is a graduate of the University of California, Los Angeles's School of Law. She was a practicing civil litigator prior to moving with her husband and children from Los Angeles to Yerevan in 1989. Before assuming her post at Junior Achievement, Mrs. Hovannisian was the director of Project Hope in Armenia.

Her husband, Raffi, is the former Armenian Foreign Minister. He served in the first independent state following Armenia's secession from the Soviet Union. Mrs. Hovannisian currently resides in Yerevan with her spouse and their five children.