News
Meeting with the Minister of Education and Science of RA Arayik Harutyunyan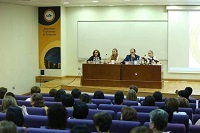 On June 25, 2018 the Minister of Education and Science Arayik Harutyunyan, Deputy Minister of Education Lusine Arakelyan and Ministry representative Syuzanna Makyan met with over 130 teachers from all regions of Armenia to assess the entrepreneurship component of the Technology subject being taught to 2nd and 3rd graders.
The entrepreneurship component was folded as a pilot project in September of 2017 to one 2nd and one 3rd grade class through all schools of Armenia. In this connection over 1356 teachers were trained by Junior Achievement of Armenia.
The overall sentiments expressed were that the children were learning skills they will need in life, that they were understanding the subject taught to them and that the program must expand to all 2nd and 3rd grades.

There were a few teachers who taught that learning about "money" was inappropriate for that age group.

http://edu.am/index.php/am/news/view/7093