News
"Brain Ring" Competition and JAA's Participation in the "My Finance Month" Event Organized by the Central Bank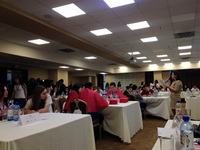 The Central Bank of Armenia has declaredApril as My Finance Month . Among this year's 15 organizers of the mega event was JAA.
The Brain Ring Competitions was organized with the Central Bank as part of the My Finance Month as well.
The event took place on April 28. All questions were prepared by the Central Bank. Some of the questions were added by the Ombudsman of Finances and Savings Bank Foundation. The organizations had special prizes for those questions which they had devised.
The jury members included
ArmineHovannisian, Executive Director of JAA
SonaLalayan, head of consumer protection services of Central bank
Suzanna Makyan, representative of the Ministry of Education
The following schools took the respective prizes


1) First place - Ararat region, Ararat State College
2) Second place – Kotayq region, Collective team (Aramus and Abovyan # 10 schools)
3) Third place – Shirak region /Azatan schools/

The event was covered in the following media outlets.
http://www.aravot.am/2016/04/28/685856/
http://armenpress.am/arm/news/845514/kentronakan-banki-u-hayastani-patanekan-nvatchumner-i.html
http://asekose.am/hy_AM/news/8/219252-brainring-kb-i-e-hpn-i-hamatex-naxacernoutyamb.html
http://b24.am/finance/54447.html
http://www.banks.am/am/news/newsfeed/10785/