News
Pambak - Daranak School Students' Project Opening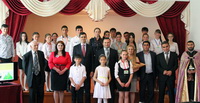 On May 23, the student NGO of PambakDalanik school in the region of Gegharkunik, held the opening ceremony of the school hall. The student NGO was created as part of Junior Achievement of Armenia's (JAA) Entrepreneurship and Civic Education for young people of Armenia who live in the border areas Back in March, the students had taken part in the JAA's mini grant competition and were awarded 150,000 AMD for their community project. The award was handed to the students by VivaCell-MTS General Manager Mr. Ralph Yirikian, whose family supplemented the JAA award with a generous donation of their own. It was with this capital that the students initiated the renovation of the school hall which wasin dismal condition.
In the first part of the JAA program, the studentshad learned the basic principles of economics, had created a business company and had managedtheir enterprise. In the process, the students had conducted marketing research, and based on their findingshad founded the "GavarPaklava" production. As a marketing tool, the students had offered the recipe for the paklava in the final package. In addition, they had manufactured aprons and kitchen towels as well.
The students had learned the basics of free enterprise and financial education as well as about corporate social responsibility (CSR) and had devised their own CSR policy. As a result, they hadallocated 10,000 AMD from their business profits for their CSR project. They had augmented their budget with the grants and other contributions they had received.
During the second part of the program the studentshad created their NGO and had started working on their community project. As to why among so many needs of the community the studentshad selected to renovate the school hall, the president of the student NGO ArmineDashyan replied:
"The hall was in such terrible condition that we could no longer hold events there. And now the students are impatientlywaiting for the opening of the hall because they have already a rich schedule of events planned. With the resources we have, we have been able to carry out cosmetic changes only".
The mission of Junior Achievement of Armenia is to arm students with financial knowledge and to inspire them to believe in their own strength and have hope for tomorrow.
The aim of the project is to provide economic education and arm young people living in the remote areas of Armenia with necessary entrepreneurial and financial skills. The program also encourages new and creative thinking among the participants and teaches them about corporate social responsibility. Through the program the students come to understand what civic society is and how they should become a member of it.
By learning about NGOs and having experience in creating and running one, the students will come to be encouraged to be involved in projects undertaken to improve the community and to have a positive attitude toward voluntarism.
The program in 150 schools is being sponsored by the JHM foundation and in 20 schools by HSBC bank. For more information on the work of JAA, please visit www. Jaarmenia.org