News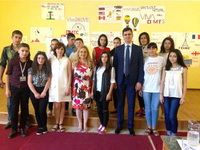 Tsaghkatzor :On July 21, one hundred sixty student participants of the 24th annual Junior Achievement of Armenia (JAA) camp took part in VivaCell-MTS business challenge. The competition was organized as part of JAA's Entrepreneurship and Civic Activism for Students and Teachers of the Vulnerable Communities in the Republic of Armenia program.
The aim of this initiative implemented by VIvaCell- MTS and JAA is to create a dialogue between business and education thus encouraging high school students to develop their entrepreneurial and creative skills. This challenge allows the students to use the knowledge they have attained during the past academic year in the JAA program and to offer solutions to the company.
Ahead of the competition, the staff of VivaCell-MTS worked with the students and presented them with a businessquestion. The students had limited time to consider solutions and to present them to a jury which included VivaCell- MTS General Manager Ralph Yirikian and JAA's Executive DirectorArmine K. Hovannisian.
TheVivaCell-MTS business challenge asked the students to consider VivaCell-MTS Tariff Plan and to make suggestions for its expansion. The students were to study the plan offered by the company and to propose ideas on how it can be enriched. The students were also asked to consider the overall services of VivaCell- MTS and to suggest ways of attracting more costumers.
In preparing their presentations, the students had to think creatively and freely and consider the following elements:
1) Price
2) Profit
3) Corporate Social Responsibility
4) Competition
At the conclusion of the competition, as Mr. Yirikian recognized the winners, he stated: "Business administration is a chain, where, along with meeting business objectives, it is also quite important to presentsolutions that are flexible, attractive andbest suited to the needs of the customers. They should bedesigned to reflect the core values and the responsibleattitude of the company, to add competitive advantage, andlast but not least, to contribute to sustainable economic development of the country.Your enthusiasm and determination to succeed are worthy ofrespect. This platform offers you a wonderful opportunity to apply the acquired knowledge in practice, and it will helpyou to become more confident and to have a clear vision of the future,"


The JAA program Entrepreneurship and Civic Activism for Students and Teachers of the Vulnerable Communities in the Republic of Armenia program operates in 150 schools and works with 2500 students in all regions of Armenia. It issponsored by the JHM foundation, the HSBC bank and the Savings Bank Foundation For International Cooperation. The aim of the program is to arm students with skills in entrepreneurship and economics. The students learn the fundamentals of market economics and apply it to real life by forming and operating their student companies. At the same time,the program teaches the students to be active citizens, work in teams and address and ameliorate issues facing their communities. For more information on JAA, please refer to www. Jaarmenia.org.