News
Message From the Staff and Board of Directors of Junior Achievement of Armenia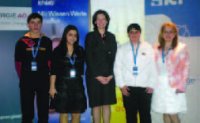 Dear Friends of Junior Achievement
,
We thank you for helping us celebrate our 17th successful year at JAA. In the ast year, your contributions assisted us in implementing a program that impacted nearly 23,000 students. The ision of our founder Cynthia Tusan and the mission of Junior Achievement of Armenia is to give today's Armenian youth the necessary skills and knowledge to compete and succeed in tomorrow's world.
The mission
is accomplished through civic and economic education. With both theoretical instruction and practical training, JAA teaches young Armenians the principles of free enterprise and democracy and how these systems operate
on a national level as well as in the global arena.
Newsletter_2008.pdf